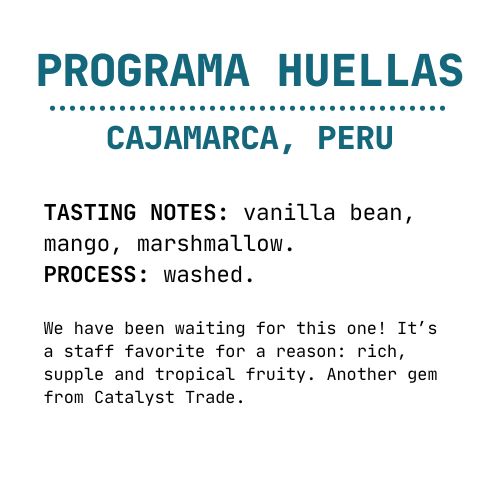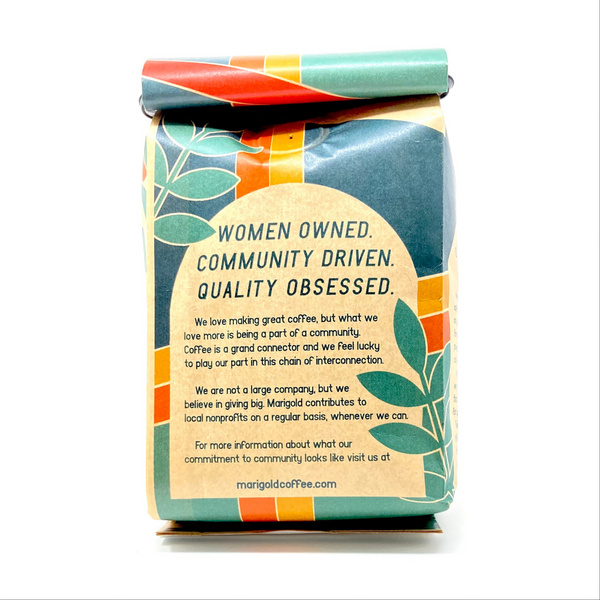 TASTING NOTES:  vanilla bean / mango / marshmallow
PROCESS: washed

MORE ABOUT THIS COFFEE:
  We love this beautiful
 coffee from the Cajamarca growing region of Peru - sweet with lucious tropical fruit notes, balanced by rich and smooth finish.
From Catalyst Trade's first shipment of coffees from Peru and we couldn't be more pleased. From Catalyst: "A community lot in the true sense of the word, 9 producers' coffees make up this lot. All hail from the San Ignacio area, with some being just over the ridge or downslope from the each other, they are neighbors and in some cases family members, working together for community and sustainability … All are members of Programa Huellas ... we fell in love with the blended terroir of Cajamarca showcased here. …Their coffee trees are produced in an agroforestry system, (a large, evergreen variety of pine tree), cedar, pacae (guava) and banana which grow throughout the mountainous terrain." We fell in love too!